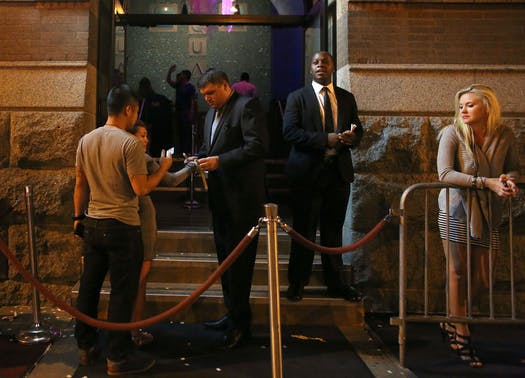 Get Licensed partners with The Loop to provide Harm Reduction training for Security Personnel
Get Licensed and The Loop are joining forces to provide security professionals with a comprehensive training package on illicit drug use in nightlife venues. Using a harm reductionist framework tailored specifically to security staff's needs, this course will help security personnel understand the effects of common club drugs, their use in venues, and how to respond to drug-related emergencies.
Course Details
The Drug Awareness and Harm Reduction course is a 3-hour online course with a certificate provided on completion. All training materials will be provided by The Loop. It will benefit all security professionals, including door supervisors and security guards, venue or event security professionals who are at the front line to help prevent drug-related harm. This course is only available through the Get Licensed platform.
What will you learn in the Course?
The course will cover the following topics:
Introduction to Harm Reduction
What is a drug
Who uses drugs
Effects and perceived benefits of key drugs
Drug-Related Issues and the law
Spiking
Responding to a drug emergency
The specific drugs that will be covered in the course are alcohol, amphetamines, ketamine ecstasy and cocaine. Security professionals will learn the effects of each substance, their perceived benefits/risks and key harm reduction tactics for each drug.
Benefits of taking the course
Currently, training on drug-related incidents, like spiking is not available. So, this course will offer something new, with an in-depth guide to enable security professionals in dealing with any issues that arise effectively, while:
Working on the doors
Keeping venues open and safe
Saving thousands of victims from harm
1. Keep venues safe
The duty of security professionals working at different venues is not to kick people out in case they are under the influence of a drug. A successful security officer is one who can ensure that the venue is as safe as possible and protect everyone within it. This course will equip you with the knowledge and skills you need to deal with anyone under drug influence and keep people safe.
2. Prevent spiking
Additionally, with the recent epidemic of needle spiking incidents, the knowledge you have will aid you to identify suspicious people and prevent those who can fall prey to such incidents.
3. Save a life
The course will also help you facilitate anyone who suffers due to drug influence. Since you will learn the effects and risks of several drugs, you can identify risks such as stroke, unconsciousness, injury and accidents and help someone suffering while present at the venue. So, having the knowledge on how to help reduce harm in such a situation is priceless and could potentially save a life. 
Looking for jobs?
Are you looking for a job? Find exciting opportunities on the Get Licensed app. All you need to do is enter your area or your preferred job title to find your next big break!
The Get Licensed App is available for download on the Apple App Store or on the Google Play Store.
For more tips on keeping and staying safe, the latest security news and special discounts on security training courses,  sign up above to receive emails and stay updated.
The UK's number 1 course finder
Best price guarantee
We offer price match if you find the same course cheaper elsewhere
100% money back guarantee
Get a full refund if you don't like the course. Terms apply.
5-star customer support
Consistently rated 5-stars on review sites like Trustpilot
£0 booking fee
We never charge any booking or hidden fees
Instant eLearning access
Get FREE access to eLearning course materials instantly after you book
Top-rated training providers
Over 90% of our customers pass the exam in the first attempt