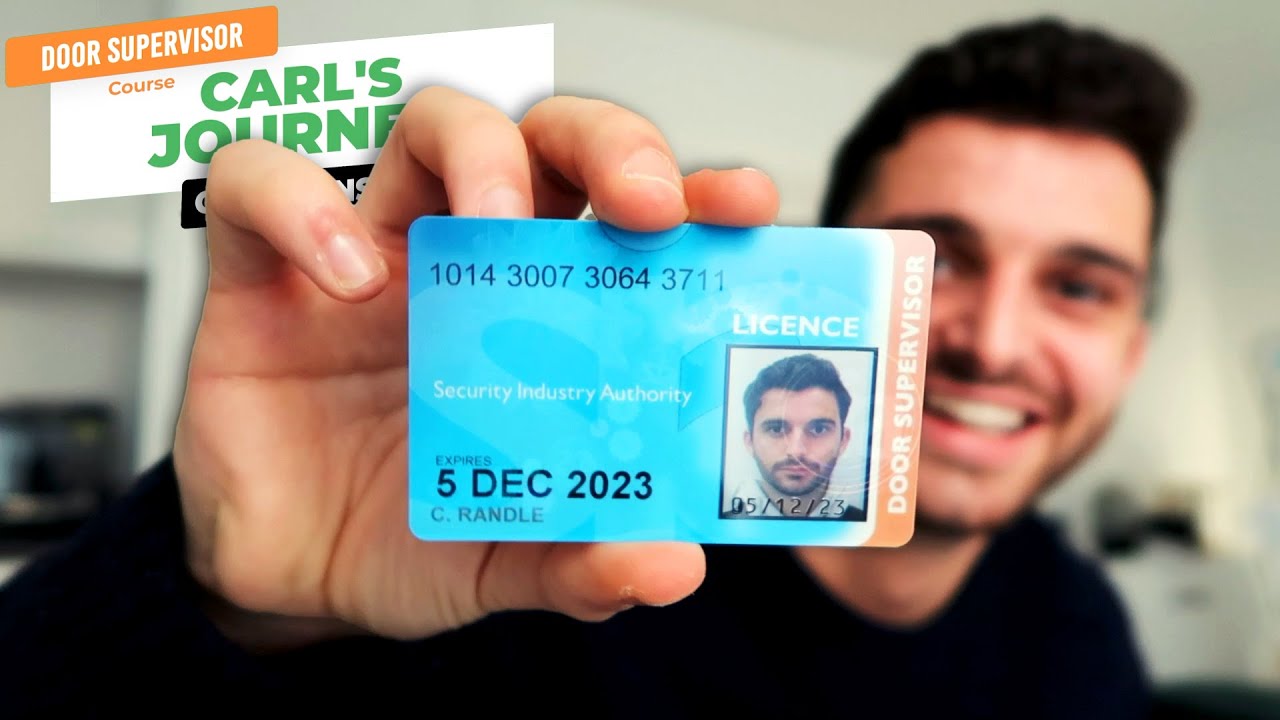 Getting a Door Supervisor Licence – Carl's Journey
Booking my course
When I first found out that Get Licensed wanted me to complete a door supervisor course from start to finish with one of their training providers I was very excited but also incredibly nervous. The fact that I work for Get Licensed meant there was an immense amount of pressure for me to pass!
Now even though I do work for Get Licensed, throughout the whole journey, I completed it on my own. This started off with booking the course myself at a location nearest to me – for me this was central London. The process of booking the course was very easy and there were lots of help queues as well as an online chat to guide me through it. I decided to opt for the premium package as this came with unlimited resits as well as the first aid course and a handbook which I think definitely gave me a better chance of passing first time.
Once my course was booked, before I attended my course I had to ensure I completed the E-Learning before I attended as this is a mandatory requirement for completing the course. It is also important that you have all of the required ID documents ready so the relevant checks can take place. I brought with me my Drivers Licence, Passport, Bank Statement and my passport photo just to be extra safe. The list of required ID documents will be emailed to you before you start your course. You can see the full list of what is acceptable here.

Day 1
On the first day of the course we started off with some ice breakers so everyone could get to know each other. From there, our course instructor Dave gave us a brief overview of the course before taking us through the first unit – Working in the Private Security Industry.

Day 2
On the second day we covered the theory for unit 2 which is Working as a Door Supervisor and this covers the likes of how to correctly search someone and what drugs to be aware of. We then had an introduction to the physical intervention part of the course which involved how to safely and effectively eject someone from a premises.

Day 3
Day 3 started off with First aid training and then moved onto the final unit we are assessed on through a multiple choice exam – Conflict Management for The Private Security Industry. Once we ran through that we then had another session going through physical intervention techniques ready for our assessment the next day.

Day 4
The final day. This was what the first three days were preparing us all for and I was feeling pretty confident. We started the morning off by having all of our ID's checked including having our passport photos attached to our applications. Once this was completed we had a quick run through of all the physical intervention techniques we learned before we were assessed on them. After this assessment was completed, we then started our multiple choice exams. There were 3 in total, each on the 3 units we covered over the days and everything we were taught in the classroom more than prepared us for the exams. The three multiple choice exams are on the following:
Unit 1 – Working in the Private Security Industry
Unit 2 – Working as a Door Supervisor
Unit 3 – Conflict Management for The Private Security Industry
Receiving Results
Once I had completed my exams, the only thing to wait for was the results! This can take up to 10-14 working days and will be emailed to you. I received my results a week after I finished the course and I was over the moon to find out that I passed! Now the only thing left for me to become a qualified door supervisor was to apply for my SIA licence.

You can see my top tips for passing your course first time here.

Applying for SIA Licence.
As soon as I received my results, I followed the links given to me from the Get Licenced website which guided me to the SIA website. From here, you must first create an account and complete all of the relevant checks. The results from the course are automatically connected to your account, however this can take a few days to do so. Once you have filled in all of the required details online, you must then visit your local post office to confirm your identity and get your photo taken for your SIA licence card.
Once this is done, all you have to do is sit and wait for the SIA to approve your application and your right to work in the UK and then they will send you your brand new SIA licence which is valid for three years!
I hope you found this vlog useful, and if you have any questions about the course or process, or have any advice you would like to share, please leave a comment and we will be more than happy to help!
Looking for jobs?
To find the latest security jobs, check out our Jobs Board, which has 1,000+ jobs from the UK's best security companies.
If you're on the hunt for a security job on the go, download the Get Licensed app for all the latest jobs and more. The Get Licensed App is available for download on the Apple App Store or on the Google Play Store.
The UK's number 1 course finder
Best price guarantee
We offer price match if you find the same course cheaper elsewhere
100% money back guarantee
Get a full refund if you don't like the course. Terms apply.
5-star customer support
Consistently rated 5-stars on review sites like Trustpilot
£0 booking fee
We never charge any booking or hidden fees
Instant eLearning access
Get FREE access to eLearning course materials instantly after you book
Top-rated training providers
Over 90% of our customers pass the exam in the first attempt