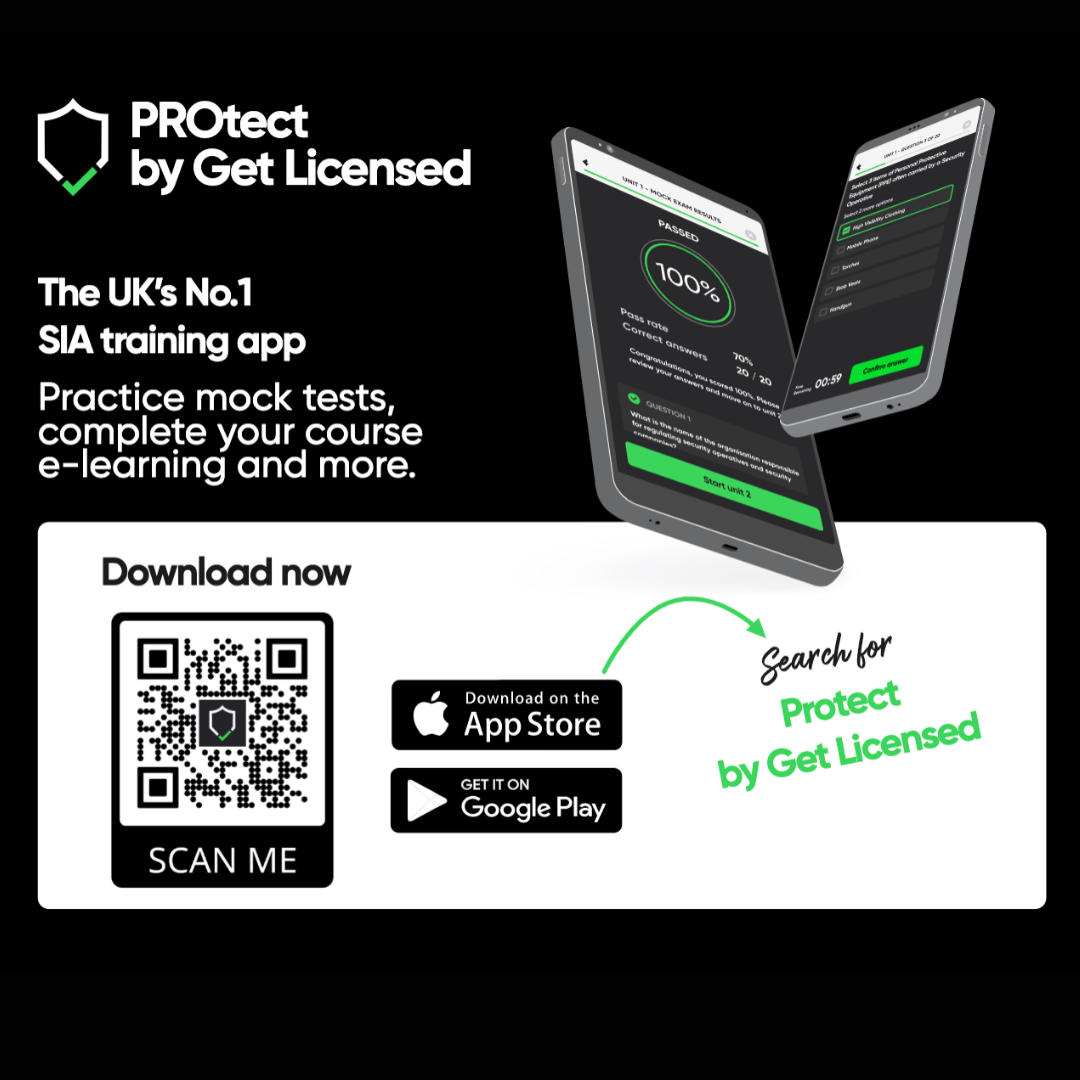 PROtect from Get Licensed — The Ultimate SIA Training App
Introducing the new app PROtect from Get Licensed! The ultimate SIA training app to try mock exams, book a security course and manage your booking.
We are excited to roll out our new app designed for you if you're looking to start working in security. The app has three main features currently, but we'll be adding more. The three features are:

✅ Booking your course

✅ Managing your booking

✅ Mock Exams
Booking your course
Booking your course through Get Licensed has always been free with a zero cost booking fee. But now, it's even easier to book on the app. Get Licensed is the UK's number 1 booking agency for the security industry. Over 300,000 people have entrusted their learning and training to Get Licensed. We have a UK wide network of top-class trainers that deliver excellent and compliant training in over 85 locations throughout the UK. In fact, we have an unrivalled 5-star Trustpilot rating.
Manage your booking
With the app, it's even easier to know the time and place of your course. If you need to rearrange your course location or date, you can do so quickly and easily. The app also has all the course content, and you can access your e-learning material with a click of a button.
Taking Mock Exams
It can be daunting booking and paying for a course if you don't know what the course material is like. And exams are scary for anyone!

That's why we provide you with mock exams, which are available for you to practice before you even make a booking. You can use the app to access lots of different exams. The pass mark is 70%, and the exams have 40 questions each. You can easily get confident with the exam content before you go to your course. You can take exams for all of our courses, including:

✅ CCTV
✅ Close Protection training courses

You can take all the modules, and because you are using the app, you can quickly access a mock exam when you have some free time, such as when you are travelling to and from work, during your lunch hour or whenever. Once you are answering questions like a pro, you can be confident to book your course, knowing you'll be able to pass with flying colours. Over 90% of people pass the course first time, so it's easy to get started in the security industry.

We'll be adding more features to the app later, but to get started, simply head to the google or app store on your phone and download the app today. To watch a quick video about getting your SIA door supervisor just click on Carl's vlog.