I've not found it difficult as a female in this Industry" - Wendy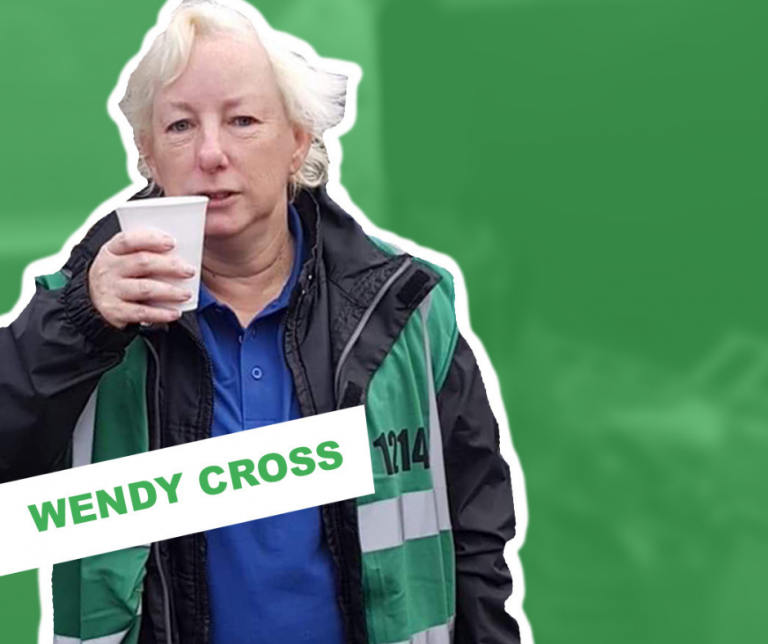 Standing at a petite 5 ft, Wendy is probably the least likely contender to work in the security sector. However, don't let the height fool you, as this 52-year-old mum has been around the security sector for much of her life, raising 2 sons who work in the security industry themselves. The security sector has always held a stereotype of the unnerving 'tough guy'.
But in the case of Wendy, it just goes to show that literally anyone can train to work in the security sector, even the ones that you would least suspect.
Starting as a Steward
I've mainly been stewarding at events. I started last year and Creamfields 2018 was my first event. I loved being in the control room at Creamfields, being in the hub of the festival and learning all that goes on behind the scenes and seeing my son doing a job that he is very good at and well respected for. It was a proud Mum moment. Both of my sons have always worked in security from as soon as they were old enough. So, my house has always had security guys about.
I had just finished my BSc (Hons) in Psychology with CBT and I asked my son if I could work with him and he agreed. He has his own security company, Facilitate Security Ltd. Previously, I had been stewarding at football and rugby events but only recently completed my SIA course.
Getting her SIA Licence
I wouldn't say there have been many crazy moments as working in the security sector, most would say I'm the crazy part of the scenario. When I turned 50 two years ago, I vowed to enjoy life and that's what I do. I'm lucky that I have another business so don't need to rely on earnings from working in this industry and do it for fun. I love having a laugh with everyone (a few women included), I have a great rapport with the fans at the various events I do the security for and get to attend some great events. I've worked in a customer service environment since I was 10 years old, so I rarely have situations that I can't handle or find difficult and I work with a great team of people who I know I can rely on if things get tough.
Working as a woman in the security sector
I've not found it difficult being female in this industry and will often say to the guys I'm working with, that if someone needs to be spoken to, then it's probably less confrontational if I speak to them. At 5ft tall they don't see me as someone they need to be confrontational with and it can defuse a situation. Personally, I've always preferred working in a mainly male environment and easily have a laugh with them.
Is the security sector for you?
I do think you have to have a certain confidence to work in this industry and it's not for everyone but there are so many variations of this job. From events, doors, static and hospitality. Find what area suits you by trying them all. Also, it can be hard work, working 12+ hour shifts at festivals and not having much sleep.
Being out in all types of weathers isn't always glamorous. I would recommend that anyone thinking of joining the security industry to try stewarding first, learning what it's like to be in environments such as football terraces and other passion fuelled situations, as it can be very different when you are surrounded by thousands of boisterous fans singing.
My time in this industry has been great fun with great people and long may it continue.
Want to work in the security sector? Whether it's as a Door Supervisor or CCTV Operator. There is a licence and a career for you. Click on the link for more information…