The scale and spectacle of modern entertainment can be a sight to behold - and with incredible size comes incredible volume! If you think that the average music concert or sports game is loud, just imagine what happened to fans attending the events on our list…
Below is a collection of the loudest events ever recorded on a Decibel meter, with some comparative sounds thrown in to give you an idea of just how loud they can be.

Standard Rock Band

110 dB

The peak volume for the average rock band.

Indiana Hoosiers Fans

115.3 dB

Simon Skjodt Assembly Hall, Indiana

17,222

Basketball

Police Siren

116 dB

Sirens very rarely cause hearing damage to people outside the vehicle due to the short amount of time spent in earshot. However, if installed improperly, they can permanently affect the vehicle's occupants.

Deep Purple

117 dB

Rainbow Theatre, London

3,000

1972

The volume of this gig rendered three people unconscious and briefly gave Deep Purple the Guiness World record for Loudest Live Performance.

Balloon Popping

125 dB

The sound is caused by the elastic contracting very suddenly, allowing the air inside to expand at great speed. This creates the pressure wave we hear.

The Who

126 dB

The Valley (Charlton Athletic FC), London

75,000+

1976

The hearing of The Who's Pete Townshend is now permanently damaged from gigs like this, almost ending his live career at one point.

Sacramento Kings Fans

126 dB

Sleep Train Arena, California

17,317

Basketball

Led Zeppelin

130 dB

Honolulu International Centre, Hawaii

8,800

1970

This peak was hit during the song 'Heartbreaker'. Other fan favourite, 'Whole Lotta Love', was also known for being particularly loud.

AC/DC

130 dB

Northlands Coliseum, Edmonton

16,839

1980

The peak volume of the first Back In Black Tour concerts. They were soon told to turn down for the rest of the tour, and they complied – a little.

Motorhead

130 dB

Cleveland Variety Theatre, Ohio

1,900

1986

Cracks formed in the ceiling and the power was cut. This led to a judge ordering the venue to be sealed off as a matter of public safety.

Kansas Jayhawks Fans

130.4 dB

Allen Fieldhouse, Kansas

16,300

Basketball

Orchestral Percussion

130 dB

The percussion section is known to be one of the loudest parts of the orchestra, with the only other real contender in terms of volume being the brass.

Air Raid Siren

130 dB

Most famously used during World War II to indicate incoming air raids, they were later adapted to warn people of nuclear attacks, as well as destructive weather in some countries.

Beatles Fans

131.35 dB

Shea Stadium, New York

45,000

1965

The band were unable to hear themselves over the roar of the crowd, having to keep time by watching the body movements of one another.

Artillery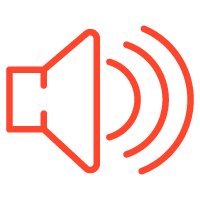 132 dB

The hearing damage caused by artillery in WWI and WWII led to governments investing heavily in hearing research, resulting in a lot of the modern hearing tech we use today.

Loudest Recorded Voice

135 dB

There are various claimants around the world for loudest voice. Many are teachers who discovered their talents while telling off their students.

Montreal Canadiens Fans

135 dB

Bell Centre, Quebec

21,273

Hockey

Kiss

136 dB

Bluesfest, Ottawa

32,000

2009

The limit the festival had set for them was 90dB, meaning they peaked at 46dB over the limit. Officials quickly forced them to turn it down.

Full Symphony

137 dB

The loudest instrument within the standard orchestra is the trombone, peaking at 115dB. However many consider trumpet louder due to the harshness of its sound.

Leftfield

137 dB

Brixton Academy, London

4,921

1996

The volume caused plaster to fall from the ceiling. This happened again when they played there in 2010. The only House/Electronica act on this list.

Seattle Seahawks Fans

137.6 dB

Century Link Field, Washington

72,000

American Football
Manowar

139 dB

Magic Circle Fest, Germany

35,000

2008

Manowar previously hit 129.5dB at a 1984 Hanover concert, giving them the last Guinness World Record for Loudest Live Performance before the award was stopped, fearing it promoted hearing loss.