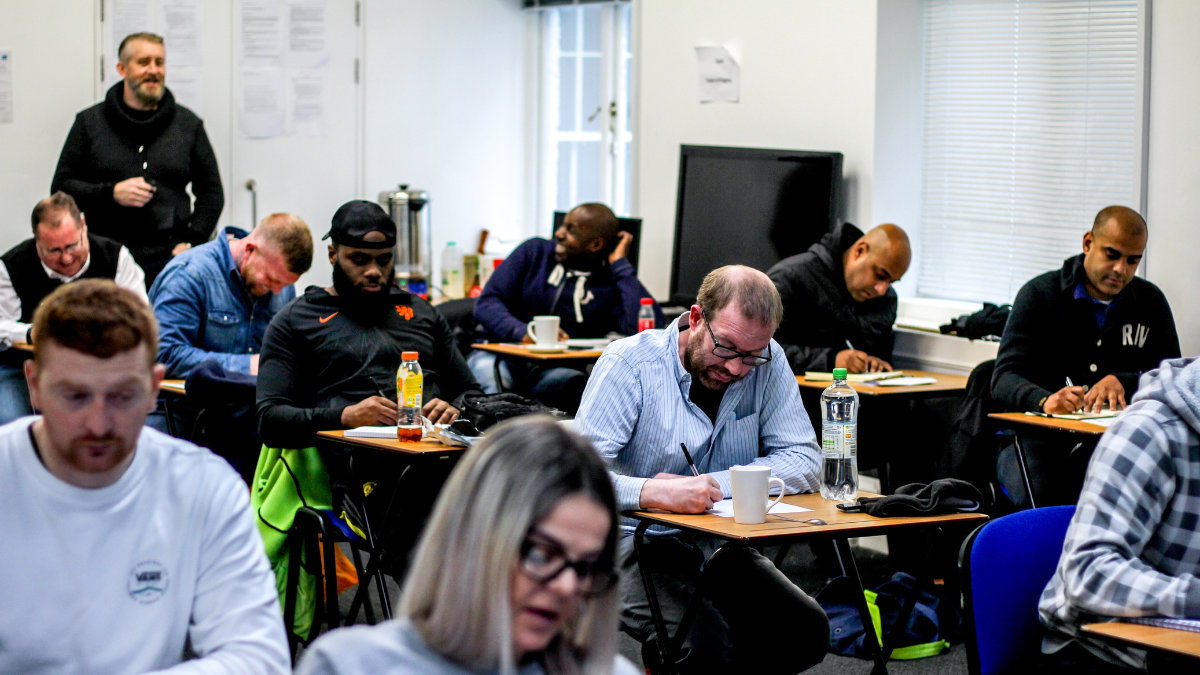 Free SIA Mock Tests – Updated 2021
Did you know that you can take FREE mock tests to practice before booking an SIA Door Supervisor Course? Or practice while you are waiting to attend the course. Here are a few FAQs answered for you about our mock tests.

What is the pass mark?
The pass mark is 70%. And there are 40 questions in each test. That means you need to get a score of 28 or more out of 40 to pass the test. You also need to get a minimum score of 70% on each module's test. It's no good getting 100% on conflict management but flunking out at 40% on Unit 1 – Working in the security management.

How long is the SIA test?
You will have an hour during test conditions, but there is no time limit on the online version, either the PROtect app or the site. 

How to prepare for the SIA test using mock tests?
Read the question carefully and then read all the answers carefully. If the correct answer doesn't immediately spring to you, then try elimination. Work out if you can, what the answer isn't and then go from there. In the next part of the blog, we explain how to use flashcards. This is one of the best, if not the best, proven methods of learning. You'll find the most brilliant minds in the world use this technique successfully — even doctors.

Try flashcards
This takes a little time, but it's proven to be the best way of learning. You can either use the traditional handwritten way or use state-of-the-art system Brainscape. If you are doing it the handwritten way, it's simply a case of writing the question and the possible answers on a piece of card. Then write the correct answer on the back. If you are using Brainscape, it's a case of inputting these onto your own automated flashcards just for use.

And yes, that might take some time, but the process of writing out or typing in the details is proven to help you memorize brilliantly.

But here's the trick that Brainscape has implemented into their system. For example, you might get the following question with the four possible answers:
Q. What does SIA stand for?

A Security industry Association
B Security Industry Authority
C Seriously Intensive Authority
D Security Indiscrimination Authority

Online practice
Say, for example, you know this question very well. You know the answer is B, and you know the reason why, then in the Brainscape system, when asked how well you knew the answer, you would answer 5. That means that you know the question like the back of your hand, and it's a waste of your time, to keep being asked about it.
Therefore, the system won't ask you that question for a long time. If you didn't know the answer so well, you would score it a 1 or 2, perhaps. And the system will know to ask you again after a few questions. This will allow you to concentrate on your weakest questions by saving time and not repeating what you know.

Offline practice
If you prefer the handwritten way instead of Brainscape, then you can use a similar system. If you have 100 flashcards and you don't know the answer well, move it back 5 or 10 in the pack of cards. If you knew it so-so, then move it back to halfway in the pack, maybe 40 or 50. And if you knew it really well, put it to the back of the deck. This will allow you to concentrate on your weakest questions by saving time by not repeating what you know.

By doing this for just a few days when you return to the PROtect app or desktop version of the 40 question test, you will be sure to have improved your scores greatly. Simply rinse and repeat until you are happy with your scores.

Use apps to save time
GuardPass is our industry-first app that not only allows you to book and manage your course but also gives you access to the free mock tests. Lots of people prefer to use an app for quizzes and tests. And it's also a great way to make use of your time. Sat on the bus for thirty minutes in the morning and evening? Then you can use that time efficiently to become study time. That means that your time is yours, having already put in an hour's study today when you get in. You could try logging into Brainscape in the morning and taking a test on your way home.
I know all the answers to the test, so why should I take the course?
So, you know all the answers, huh? Well done, you! And it's certainly reassuring parting with your hard-earned cash for a course that you are confident you will pass. If you take that extra step and make either handwritten or Brainscape flashcards and practice for a week or two, then we are pretty sure you will easily be getting above the pass mark in a short space of time. Anyone can pass the test if they use this technique.

However, there will be some questions that you have remembered the correct answer to, but you are not really sure why. That's where your trainers come in, who will explain everything in an easy-to-understand way.

For the most part, being a door supervisor is about learning skills and thinking on your feet to apply the essential information you have learned. You can only learn this by interacting with a trainer.

In addition, you can only become qualified by taking the course. But you can take the course at a local venue or online.

How do I sign up?
Knowing you can pass the course is one thing. But knowing it's right for you is another. Take the time to watch some videos from our YouTube channel and if you think being a door supervisor is going to be right for you, then book today. With no booking fee, price match and a money-back guarantee, you have absolutely NOTHING to lose and EVERYTHING to gain. 

The UK's number 1 course finder
Best price guarantee
We offer price match if you find the same course cheaper elsewhere
100% money back guarantee
Get a full refund if you don't like the course. Terms apply.
5-star customer support
Consistently rated 5-stars on review sites like Trustpilot
£0 booking fee
We never charge any booking or hidden fees
Instant eLearning access
Get FREE access to eLearning course materials instantly after you book
Top-rated training providers
Over 90% of our customers pass the exam in the first attempt