Detectives in Newham have suggested introducing licences for "rambo" knives as concerns about knife crime continue to grow. Knife crime has risen nationally, and statistics from the Mayor's Office of Policing and Crime place Newham as one of the top three London boroughs for experience the highest volume of knife crime in the past 12 months.
Why are the knife licences being considered?
Senior detectives in Newham have discussed a "licensing or registration system" with the government due to fears that hunting knives are becoming the weapon of choice among gangs. Police have said that survival and hunting knives can be picked up for as little £15 online and can cause more damage than ordinary kitchen blades.
The new law the Offensive Weapons Bill, means that retailers will now have to check the age of anyone purchasing a knife before handing over the over. The bill also bans the possession of weapons such as zombie knives and knuckle dusters
But police officers have said there are legitimate reasons for somebody buying a hunting knife and more can be done to stop knives getting into the wrong hands. They have discussed the possibility of licences with the Home Office, which they believe would make them harder to get hold of.
Who wants knife licences introduced?
Detective Inspector Nathan Munson, from the community safety unit based in Newham told the borough's crime commission why he believed a licensing or registration process would be effective.
He said: "We need to make it more difficult for stabbings to occur. If you want a survival knife you go online and you buy one for £15.
"The Offensive Weapons Bill will prohibit zombie knives, [but] they are not the main problem we see. It is the survival knives. I know people can say it is not hard to get hold of a kitchen knife because they are in your house, but they are not designed to kill. These weapons are more damaging."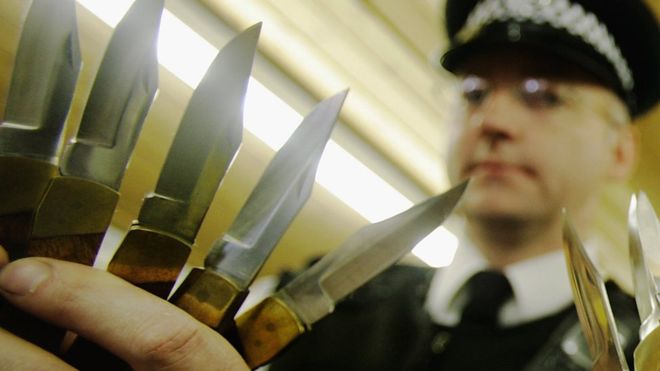 How to work in the security sector
If you are interested in working in the security sector, whether it be as a Door Supervisor, Security Guard or CCTV Operative, you will need to obtain a SIA Licence.
To obtain a SIA Licence, you will need to complete a course. Once you have completed the course, will you then be able to apply for an SIA Licence and work in the security sector.

Summary
Article Name
Should knife Licenses Be Introduced As A Way To Combat Knife Crime?
Description
Police in one of the top boroughs affected by knife crime, have proposed introducing knife licences. Is this a necessary measure to get dangerous knives off the streets?