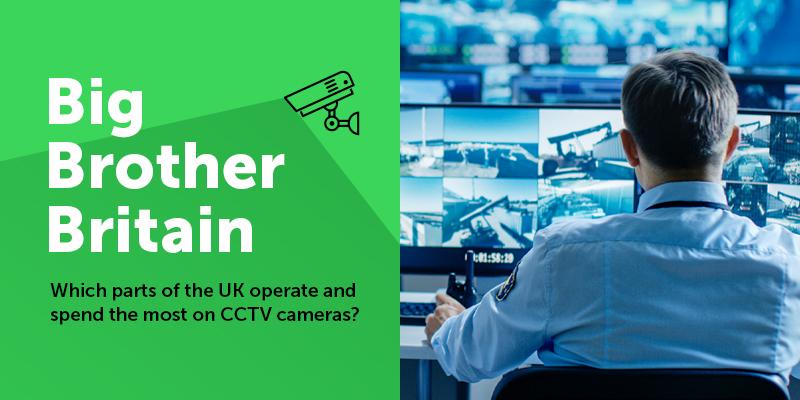 Big Brother Britain
Which parts of the UK operate and spend the most on CCTV cameras?
CCTV cameras have become such a ubiquitous part of our lives that it's easy to forget just how often we're being watched.
Whether it's on the streets, public transport, in car parks, or pretty much any other public space, cameras are a common sight around the UK, with many people also choosing to install them at home too, for extra security and peace of mind.
But which parts of the country are the most watched? To find out, we submitted Freedom of Information requests to each council in the UK, requesting the number of CCTV cameras operated by each, and how much they spent on installing and maintaining them each year.
While some councils either didn't respond to our request or were unable to provide information, here are the most heavily surveilled areas in the UK.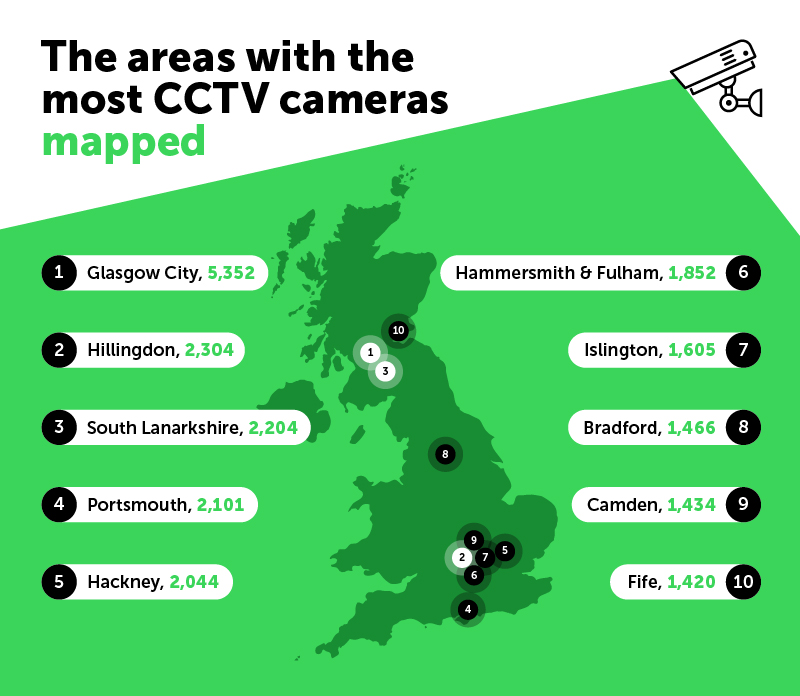 The areas with the most CCTV cameras
1. Glasgow – 5,352 cameras
By far the council area with the highest number of CCTV cameras in Glasgow City, with over 5,000 cameras operated by the city. Glasgow is Scotland's biggest city and is home to over 600,000 people, which works out at around 874 for every 100,000 people.
2. Hillingdon – 2,304 cameras
Taken as a whole, London is by far the most-watched city in the UK, but even when broken down by borough, a London council area takes second place, with 2,304 council-operated cameras in the borough of Hillingdon. Located in West London, Hillingdon is one of the capital's largest boroughs, home to around 300,000 people, and is the home of Heathrow Airport and Brunel University.
3. South Lanarkshire – 2,204 cameras
While the majority of local authorities that house the most cameras are major towns and cities, there are a few that are slightly more surprising, such as South Lanarkshire in Scotland, which has 2,204 council-operated CCTV cameras. South Lanarkshire borders the most-watched place on our list, Glasgow, and contains some of the city's suburban towns, such as Hamilton.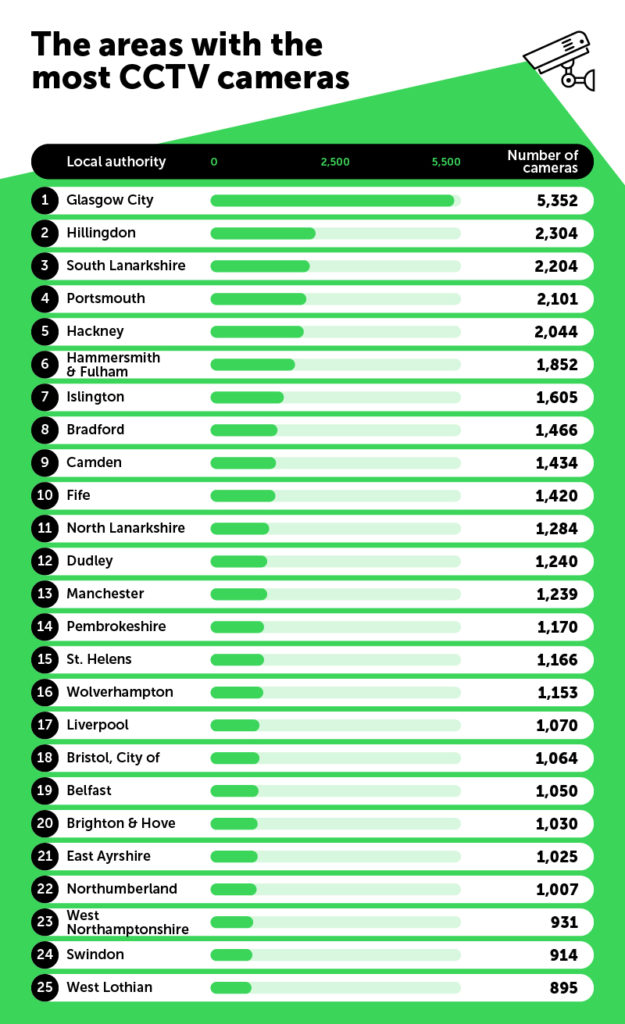 The areas with the most CCTV cameras per person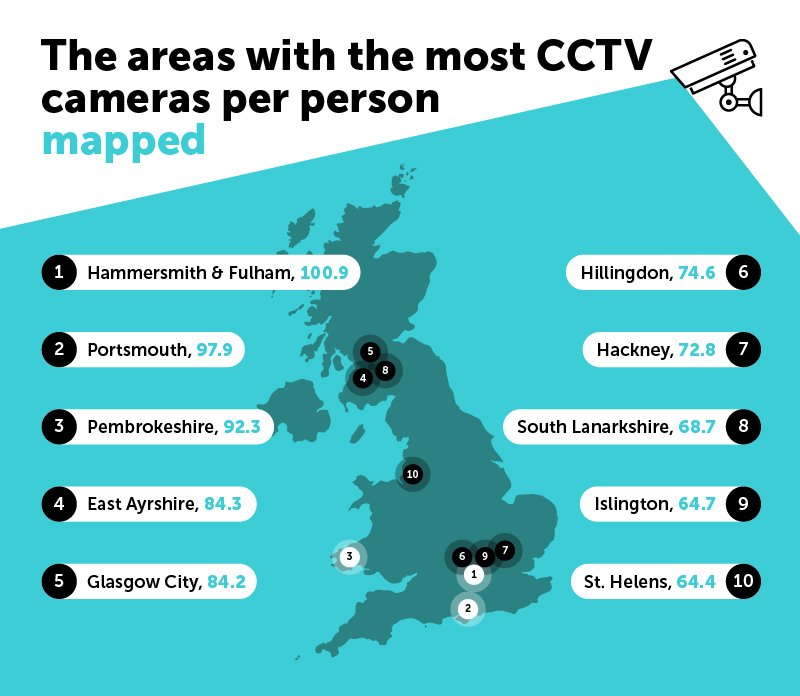 1. Hammersmith and Fulham – 100.9 cameras per 10,000 people
When we look at the places with the most cameras per capita, it's a London borough that comes out on top, with there being roughly 1 CCTV camera for every 100 people in Hammersmith & Fulham. This borough is located in West London and is also part of Inner London and is a busy and well-populated borough with lots of international companies having offices in the area. It's also one of the most expensive districts in the whole country, which perhaps is a reason for the heavy security.
2. Portsmouth – 97.9 cameras per 10,000 people
Another major city comes in second, with 97.9 cameras per 10,000 people in the port city of Portsmouth, found across housing blocks, street cameras, and council offices, as well as at museums and libraries in the city.
3. Pembrokeshire – 92.3 cameras per 10,000 people
A more rural area takes third place, with 92.3 cameras per 10,000 people in Pembrokeshire. Pembrokeshire is located on the southwest coast of Wales and has a total of 1,170 CCTV cameras, which is due to increase in the coming years too.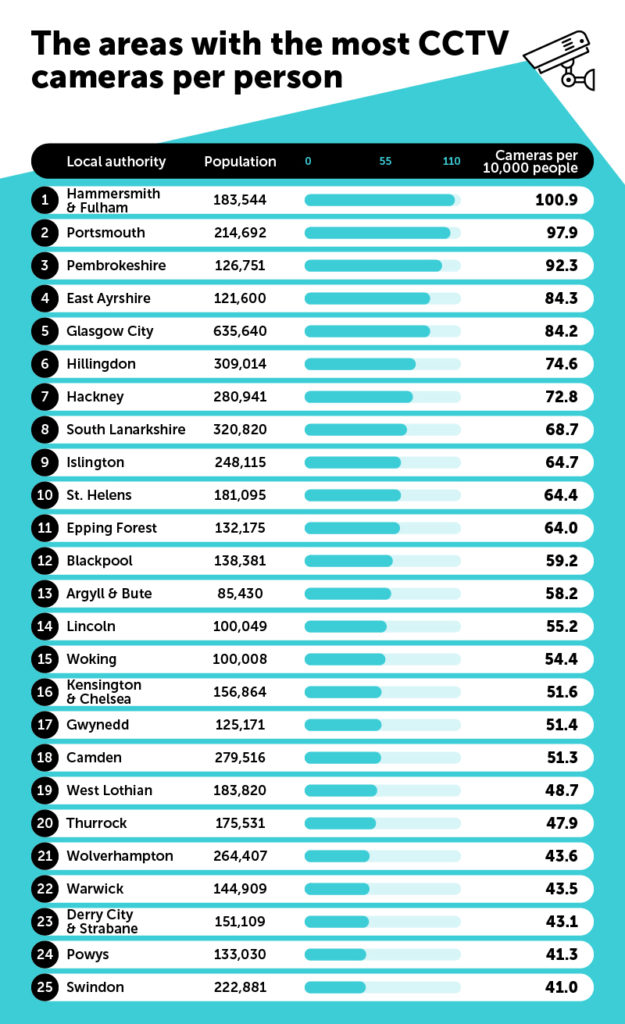 The areas with the greatest expenditure on CCTV
1. City of London – £7.05 million
Once again, the City of London comes top, this time when it comes to the amount of money being spent on CCTV in the area, at a huge £7.05 million, far more than anywhere else in the country. This included over £3 million on security at the Barbican Centre and over £1.5 million each at the Central Criminal Court and Guildhall.
2. Wolverhampton – £1.19 million
In second is Wolverhampton, in the West Midlands, where there was a total spend in excess of £1 million on CCTV, the bulk of which was on cameras operated by Wolverhampton Homes.
3. Camden – £961,893
The area with the third-highest spend on CCTV is Camden, in Inner London, with an annual expenditure of just under a million pounds for its 1,434 cameras. Camden is home to a number of well known London attractions such as the British Museum, British Library, Parliament Hill, and the London Zoo.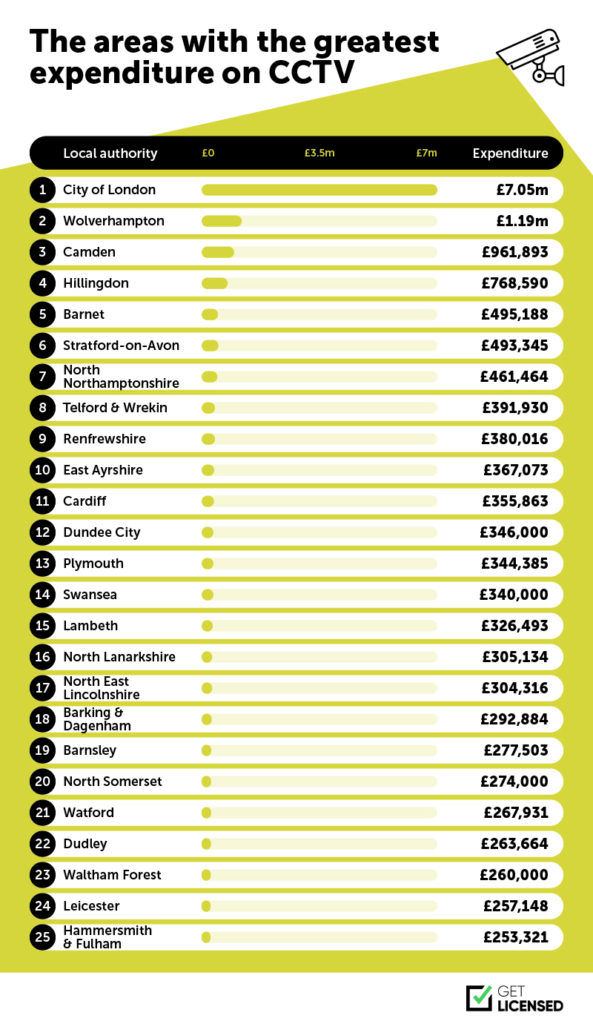 Methodology
We sent Freedom of Information requests to each council in the UK requesting the following information:
The number of CCTV cameras currently operated by the council.
The council's expenditure on installing and maintaining CCTV cameras in 2020 (note that while we requested data for the 2020 calendar year, some councils were only able to provide data for the 2020/21 financial year.
Note that not all councils responded to our request and some were unable to provide information for various reasons.
In addition, means of recording information such as the number of cameras and expenditure may differ slightly between councils.
The UK's number 1 course finder
Best price guarantee
We offer price match if you find the same course cheaper elsewhere
100% money back guarantee
Get a full refund if you don't like the course. Terms apply.
5-star customer support
Consistently rated 5-stars on review sites like Trustpilot
£0 booking fee
We never charge any booking or hidden fees
Instant eLearning access
Get FREE access to eLearning course materials instantly after you book
Top-rated training providers
Over 90% of our customers pass the exam in the first attempt