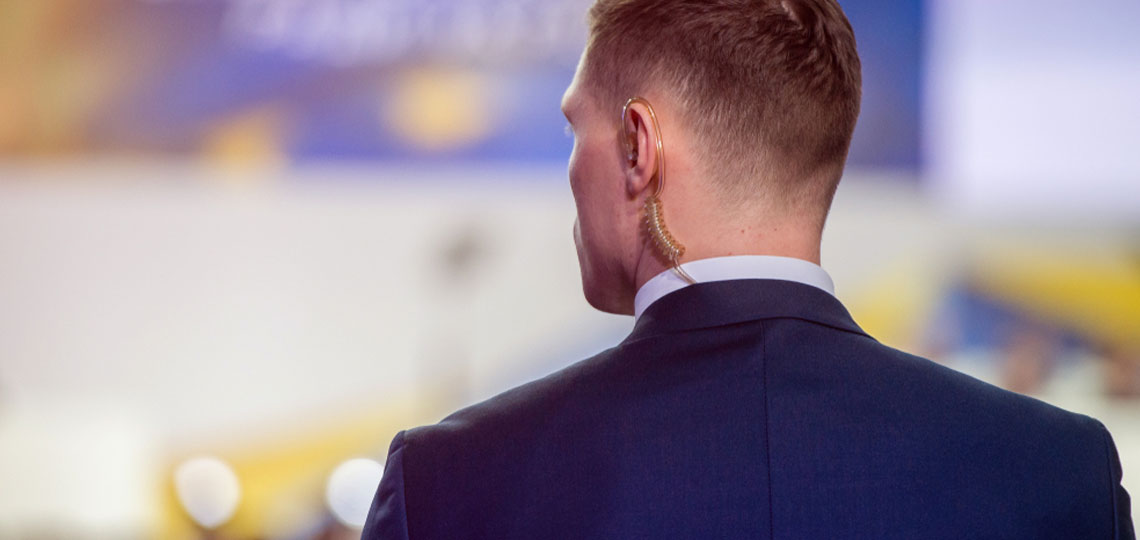 How to get a security job as a close protection officer
If you are unsure what a Close Protection Security Officer does, then it's just a new title for being a bodyguard. Most people perceive bodyguards as intimidating buff men wearing an earpiece. Others see them as men who are always ready to take a punch or even give one to protect their client without hesitating. Well, what if we tell you that there's more? 
Responsibilities, Perks and Promotions
Being one of the most exciting security careers, many Protection Security Officers experience a jet-setting lifestyle while protecting their high-end clients. Being a protection security officer also means there is a reasonable possibility of meeting famous people, you get a chance to stay at chic hotels, and see new places. The best part is that you get to enjoy free exotic travel and meals depending on the assignment! 
As a Protection Security Officer, you are expected to evaluate threats carefully and sensibly implement plans and strategies to stop potential dangers from unfolding. You are expected to be on the lookout for every detail of your client's surroundings at all times. You might be required to perform background checks on new staff if you work in an organisation. All responsibilities boil down to one significant goal, keeping your client safe.
Paid vacations, medical cover and travelling to various countries worldwide are just a few perks of being a Protection Security Officer. The more you stay in the field, the more you gain recognition from clients, and you can even get top referrals to more prominent clients. Let's not forget that your income has the potential to grow tremendously. 
If you're interested in becoming a Protection Security Officer, you're just a few days of training and a licence away from getting your job! 
Let us show you how;
Step 1 – Check Your Eligibility
Before going any further, you should meet specific criteria for the SIA licence and course; 
You must be over 18 years of age 
You must be in good physical condition 
You must pass a mental health check 
You must know the local language 
You must have the right to work in the UK
You must be a certified first aider 
Step 2 – Book and Attend Your Course
You're in luck because booking your course is super easy and reliable on our website. The Close Protection training course costs roughly £2000, which is worthwhile considering what you'll be making.
Both theoretical and practical skills are taught within the 16 training days. You will acquire competent skills and knowledge in the field with excellent trainers. There are assessments to pass during the course, but the great news is there is a 95% pass rate. And if you don't like the course or fail, there is a 100% money-back guarantee (terms apply). 
Step 3 – Get Your SIA Licence
After passing the practical assessments and examinations, the next step is getting your licence. You only need to pay £190 to get a 3-year valid licence. 
Step 4 – Find A Job
Now that you have qualified and successfully acquired a licence, it's time to find your first job and begin your career!
One of the best things about being a Close Protection Security Officer is that various roles exist. If you choose to, you can fall under residential security, where you protect people and properties from any form of breach. You can also choose to bodyguard for VIPs and celebrities and get private international assignments. 
To make your job hunting easier, download the get licensed app. This amazing app helps you get accreditation and provides a platform where job seekers conveniently get the contacts needed to get jobs and flourish in the security business. Many job opportunities are at your disposal on this app, and you can also track the progress of your applications.
Earning potential
Wondering how much you can earn in this role? For starters, you can expect to earn as high as £50 to £100 per hour. The longer you stay in the role, the better your chances of getting referrals and even better positions. Why not check out our YouTube day in the life of a bodyguard? If you believe this career is for you, why not get started on your journey to becoming a bodyguard today?
Looking for jobs?
To find the latest security jobs, check out our Jobs Board, which has 1,000+ jobs from the UK's best security companies. 
If you're on the hunt for a security job on the go, download the Get Licensed app for all the latest jobs and more. The Get Licensed App is available for download on the Apple App Store or on the Google Play Store.
The UK's number 1 course finder
Best price guarantee
We offer price match if you find the same course cheaper elsewhere
100% money back guarantee
Get a full refund if you don't like the course. Terms apply.
5-star customer support
Consistently rated 5-stars on review sites like Trustpilot
£0 booking fee
We never charge any booking or hidden fees
Instant eLearning access
Get FREE access to eLearning course materials instantly after you book
Top-rated training providers
Over 90% of our customers pass the exam in the first attempt