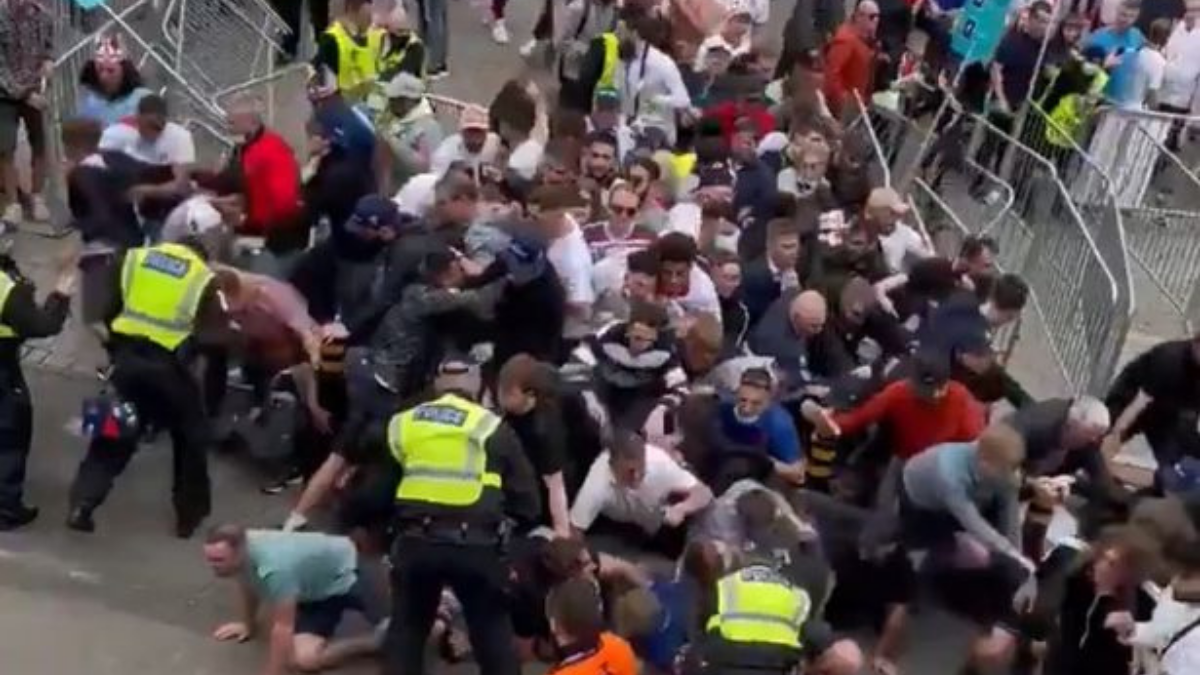 Could it have been any closer? A nail-biting end to the Euro championship. 3-2 after a penalty shoot-out and Italy walked away with the cup. But England can walk away with their heads held high after an unbelievably amazing performance.

But behind the scenes, there were issues with fans desperate to see the match. And despite the team almost taking the title they had to share the headlines with out-of-control fans.

The fans who managed once again to disgrace the nation certainly scored a home goal with their behaviour. The UK fans known for being the world's most poorly behaved have now put the UK's bid to host the 2030 championships in jeopardy.
What happened?

With a moment as huge as this for football fans, it should have been expected that some would try to absorb the moment live by any means necessary. That's just what happened with fans who didn't have tickets and gathered strength through their collective rowdiness. They would eventually storm the stadium desperate to get a glance of the first national team to qualify for a major final since 1966.

Social media erupted with pictures and videos of fans doing whatever it took to get into the stadium. A situation that security officers have been trained to deal with, but in this case, they were simply not prepared for the sheer volume of fans trying to breach the stadium.

To get a better understanding of just how desperate fans were to get in the stadium take a look at this tweet from Sam Wallace, a reporter for the Telegraph.

"Just seen another fan jump down a 20 foot+ wall to try to get into the inner cordon near the media entrance. He's telling the stewards escorting him away he had his ticket stolen." How does a security officer prevent a fan from jumping down such a high wall?

Other social media clips show what looks like hundreds of fans frantically running through security posted at the doors of the venue. Wallace also shared a clip of that to show just how crazy fans we're behaving.

Even though it looked like hundreds had stormed the stadium, a Wembley spokesperson described it as a small number of fans in the end. He also said that countermeasures were put in place immediately to eject fans who did not have a genuine ticket. According to some reporters in the stadium, as reported by inews it just about 40 fans were successful in getting in, and getting in front of the press box.

That number seems rather small when compared to the videos showing fans frantically trying to get in from all access points of the stadium. Security forces were clearly overwhelmed as the article also indicated that volunteers were "forced to act as stewards". Of course, volunteers are not trained like security professionals so several fights broke out as legitimate ticket-buying fans had to fight for their seats. For context, 60,000 fans had tickets, so imagine thousands having to fight for their rightful seat.

Even though it seemed sure that some errant fans were able to get into the stadium, another Wembley spokesperson denied this. This person is quoted as saying: "Safety measures were quickly activated in the relevant areas and there were no security breaches of people without tickets getting inside the stadium."

Crowd control was also highlighted outside of the stadium as Olympic Way, the street that leads to the stadium was blocked by hundreds of desperate fans. This surely should have been manned by security professionals and police. One issue that was highlighted by a steward that is also probably shared by security officers, is the fact that the pay for these events is simply not enough to handle a situation of this magnitude.

His comment was caught by the Mirror who spoke to him after he said a fan pulled a knife on him. "The man said 'you ARE going to let me in'. "What was I going to do? I earn £8.90 an hour – I'm not getting stabbed for that." That report also revealed that a woman was sexually assaulted in the ensuing melee. When the smoke cleared at least 49 people were arrested and 19 injured. An inquiry into the incident has also been launched by FA chief executive Mark Bullingham.
What lessons need to be learned

If the UK is going to have any chance of hosting in 2030, they will need to prove they can do better than they did on Sunday at Wembley. While some may be sympathetic in this case as it was a historic game for the home team it would not be the same when nations from all over the world express concern for their safety. To that end, some improvements must be made. Let's take a look at some that we think could help.
Improvements needed

As one security guard said, he's simply not paid enough to deal with fans armed with weapons. So if significant pay increases are not in place for events like this, then they ought to be manned by better trained and paid police officers.
A proper ticketing system is going to be crucial. Fans may have to endure a long wait before the game as the best way to handle this may be to have fans get to the stadiums about three hours in advance so that all access roads and entry points can be locked down. This will prove a deterrent for fans trying to storm the various stadiums but will come at an inconvenience to fans.
There must be better communication between the police and security officers so that they can be prepared for overwhelming and rowdy crowds. This will take proper organisation between the relevant authorities. This should also take into consideration the number of security forces needed as well as carefully thought out approaches to guarding the outside of the stadium. It will also take coordinated, frequent and well-organised patrols.
There's no doubt that alcohol can fuel violence. While some fans are able to drink responsibly, a lot of them consume so much alcohol before the start of the match that they are easily angered. Selling alcohol should be limited according to the start time of the game. It's also probably not a good idea to sell alcohol for the entire day at a stadium with fans coming in earlier to enjoy the game.
Following this incident, it has been highlighted that the barriers installed were just not enough. They were broken down and did not prove to be a great security measure. Therefore, when it comes to major tournaments, more barriers are needed and should be placed in more strategic points around the stadium.
In the interest of security, metal detectors should also be placed at all entry points of the stadium. Security officers should also have mobile ones in the event they come across someone who they suspect may be trying to smuggle in a weapon. They should also be tested before use as a number of violent incidents can be prevented if people are not allowed into or around the stadium with dangerous weapons.
For the World Cup bid to be won, the country must show that it is capable of providing the safety of the players and all those participating. The only way to do this is to have properly trained security officers who understand the task of protection.

The UK's number 1 course finder
Best price guarantee
We offer price match if you find the same course cheaper elsewhere
100% money back guarantee
Get a full refund if you don't like the course. Terms apply.
5-star customer support
Consistently rated 5-stars on review sites like Trustpilot
£0 booking fee
We never charge any booking or hidden fees
Instant eLearning access
Get FREE access to eLearning course materials instantly after you book
Top-rated training providers
Over 90% of our customers pass the exam in the first attempt