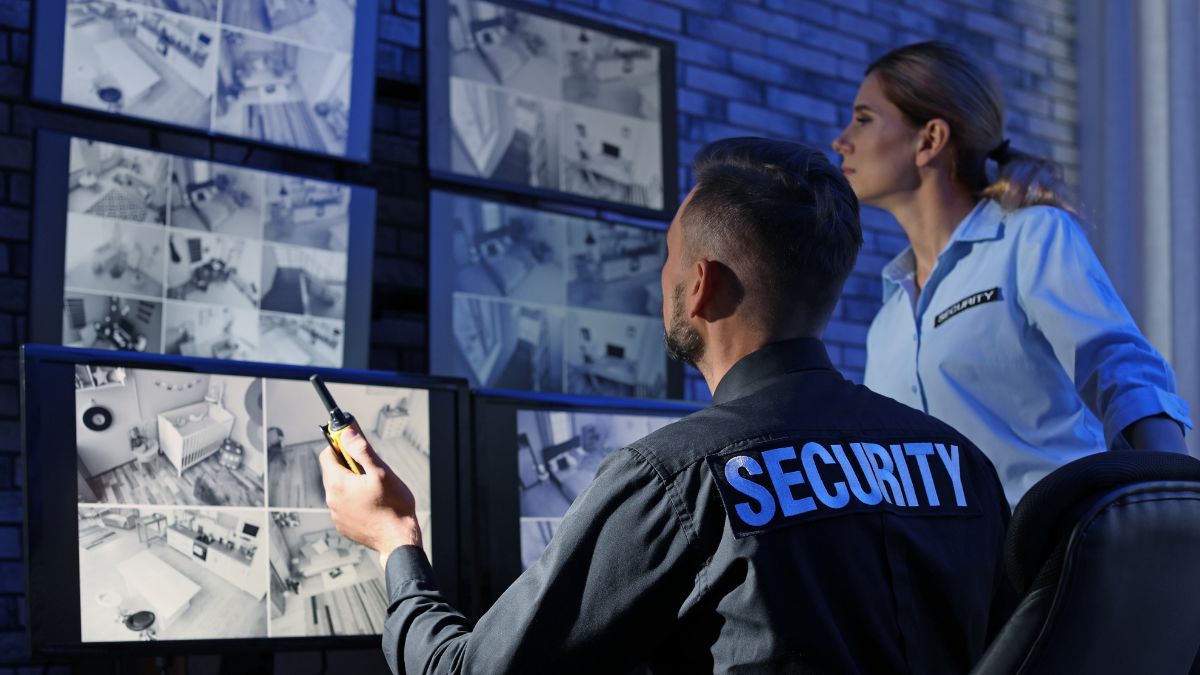 What Jobs Can You Do With A SIA CCTV Licence?
We all know closed-circuit TV (CCTV) cameras are part of our lives, and they are not going away. There are millions of CCTV cameras all over the UK, and someone has to be watching them. With an SIA CCTV licence, it could be you. From monitoring public safety to spotting card counters in a casino, there are many different and interesting jobs available for you to do.

Undertaking a CCTV operative course is another step in improving your job opportunities and kicking your career in security up a notch. Holding more than one SIA licence, significantly improves your job prospects. Having an SIA Door supervisor licence along with an SIA CCTV operator licence puts you at the top of the list when employers start hiring. Before we start to look at what jobs are available, let's review what an SIA CCTV operator training course is about.

Get Licensed is all about making your life easier, and getting trained for a CCTV licence, also known as a Public Space Surveillance (PPS) licence is a simple stress-free process, so let us help you.

What A CCTV Course Entails
Level One
Get Licensed can assist you in preparing for your level one CCTV operator training course by virtual classes. Meaning it is all online, this option offers:

✅ No travel required
✅ Learn in real-time with your instructor
✅ Full classroom experience
✅ From the comfort of your home
✅ Take your exam from home
✅ Faster results

Level Two
This involves a 3-day course which covers three units.
✅ Working in the Private Security Industry
✅ Working as a CCTV Operator
✅ Practical Use of CCTV Systems

It is a legal requirement to hold an SIA CCTV licence to work in the public sector industry. With the licence, you can legally,

✅ Monitor the activities of a member of the public.
✅ Use CCTV equipment (such as cameras) to identify (focus, track or look for) particular individuals.
✅ Review recorded footage through CCTV equipment to identify individuals or to investigate the actions of individuals.

A World Of Jobs Await You
Having your CCTV licence allows you to use closed-circuit tv to monitor the activities of members of the public in private and public places. Here you can view people in real-time or via surveillance recordings, report suspicious activities and contact the relevant authorities.

A CCTV system is a tool for use by public safety organisations like the police and emergency service. It helps them keep the public safe by identifying criminals, illegal activities, spot terrorists and effective road traffic management. Working in security on CCTV surveillance means you often work hand-in-hand with the authorities and other security personnel in keeping people safe. Jobs at events like concerts, sporting activities, outdoor and indoor events, working with a control room. A Control Room Operator position being the most popular job available.

A CCTV system is an essential tool for businesses of all kinds. Why are they so important?

A deterrent to criminal activities- seeing the cameras might not stop criminals. It does give them pause to know they can be seen and identified.
An overview of what goes on – in that company management knows what is happening in their workplace. Keep track of visitors and employees.
They reduce retail theft – as a preventative tool; they are very useful. If a theft does occur, the recording can identify the thief increasing prosecution rates.
Provide staff with protection – gives peace of mind that any complaints can be reviewed in real-time. It also provides a quick response to any inappropriate behaviour, including violence toward staff.
Stops fraudulent claims being made.
Secure monitoring of the company or business out of hours,

These are the reasons more, and more companies are employing CCTV security operatives. Their value is a given. Today holders of an SIA CCTV Operator's licence can work in any number of places for example –

✅ Hospitals
✅ Casinos
✅ Retail and commercial businesses
✅ Office buildings
✅ Airports
✅ Public transport areas – the tube, bus stations
✅ Events & Concerts
✅ Shopping malls
✅ Car parks

Interested?
Then it is time to get on board with Get Licenced and expand your job opportunities. Check out this video to know more about the SIA CCTV training course.
Looking for jobs?
Are you looking for a job? Find exciting opportunities on the Get Licensed app. All you need to do is enter your area or your preferred job title to find your next big break!
The Get Licensed App is available for download on the Apple App Store or on the Google Play Store.
For more tips, the latest security news and exciting prize draw campaigns, sign up above to receive emails and stay updated.
The UK's number 1 course finder
Best price guarantee
We offer price match if you find the same course cheaper elsewhere
100% money back guarantee
Get a full refund if you don't like the course. Terms apply.
5-star customer support
Consistently rated 5-stars on review sites like Trustpilot
£0 booking fee
We never charge any booking or hidden fees
Instant eLearning access
Get FREE access to eLearning course materials instantly after you book
Top-rated training providers
Over 90% of our customers pass the exam in the first attempt