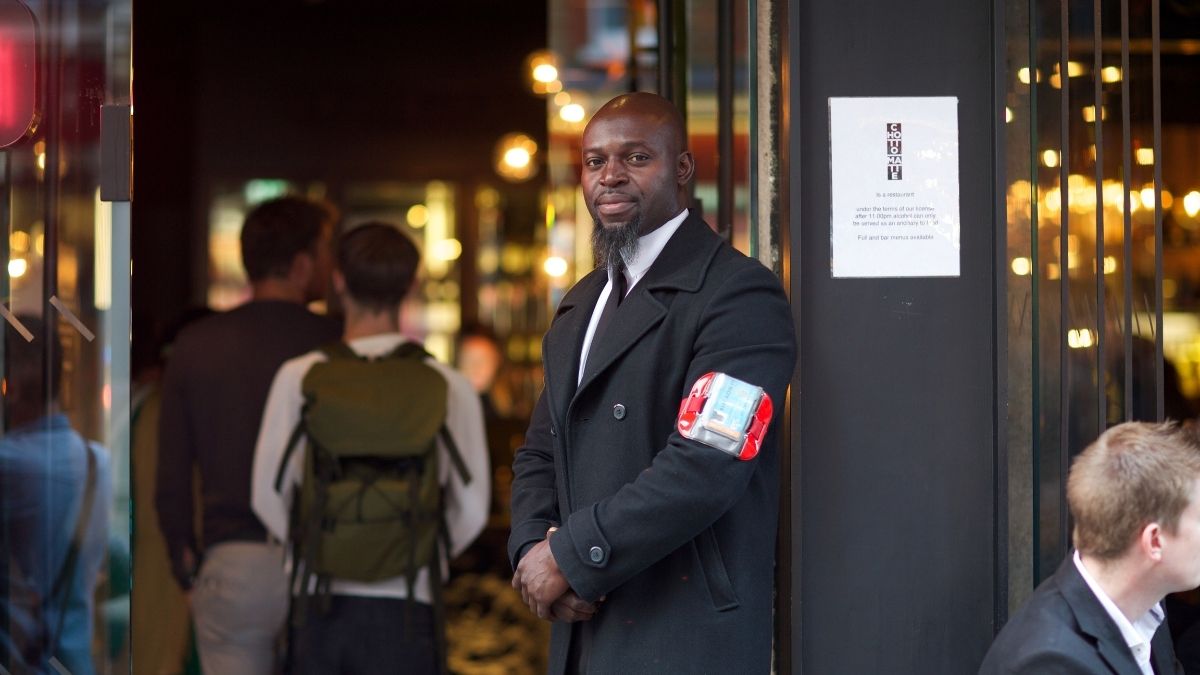 Why the SIA Door Supervisor training course is a gift from heaven
Let's face it. Money doesn't grow on trees, right? So when you are spending money to invest in your future career, you want to know it's money well spent.
Well, we believe that the Door Supervisor Course truly is a magnificent thing and a great investment in your future. 
Here are 6 reasons why we believe it's a great value career move.
✅ Increase your earnings
As soon as you get your licence, you can start earning. A door person can earn up to £15 per hour. So, you could earn anything for £1800- £3000 per month.
✅ Access flexible hours and perks
You won't need to wait long to cover the costs of your course. Once you have received your exam pass and license, use our security job board to begin applying for security posts in various sectors.
You can apply for a full-time position or choose part-time work to top up other income. The private security industry is thriving. So choose from positions in retail, shopping centres, events, or in bars, clubs, and restaurants. There are perks to many of these jobs, such as discounts, tips, meals, and pensions access. And there are flexible hours and environments to suit anyone.
✅ Don't stop there
Becoming a door person gives you a super helpful stepping stone on to other work. After becoming a door person, you might want to look into these other ideal possibilities such as:
CCTV surveillance
Head door person
Starting your own security firm
Training provider for door staff
But why do we think the Get Licensed exam is such great value? There are several reasons for that too.
✅ Get qualified for door supervisor and security guard training
If you were to take a course for just security guard training and get a licence for just that, then that's all you'll be able to do. But with our course, and with a door supervisor licence, you are fully qualified to do both types of work.
✅ Comprehensive course
The 4-6 day course that we provide covers a considerable number of elements. The modules include:
All about working in the private security industry, including fire safety, legal aspects and emergency awareness.
All about working as a door supervisor, including searching, arrest, drug awareness, and behavioural standards.
Conflict management, including safety, as well as avoiding, defusing and resolving conflict.
Physical intervention skills
What's more, the communication and conflict management skills elements taught are valued at more than the entire course itself.
✅ Learn first aid
Not just that, the course now has an additional element built into it due to a change in the law. You will now learn further skills at no extra cost. This includes learning valuable life-saving skills. With the new module to the course, you'll be an effective first aid provider. And you could save the life of a member of the public or even a loved one.
If these were not reasons enough, you still might have doubts that you might not pass the course and will have wasted your hard-earned cash.

Well, we are not here to set you up for a fall. 90% of people pass the course the first time. And if you are not completely happy with the course, you can get a full refund.

We also price match, so you won't find the course cheaper anywhere else. And you can even try out a mock exam right here, so you know what to expect.

So with a £0 booking fee, why not find the nearest course to you today?

The UK's number 1 course finder
Best price guarantee
We offer price match if you find the same course cheaper elsewhere
100% money back guarantee
Get a full refund if you don't like the course. Terms apply.
5-star customer support
Consistently rated 5-stars on review sites like Trustpilot
£0 booking fee
We never charge any booking or hidden fees
Instant eLearning access
Get FREE access to eLearning course materials instantly after you book
Top-rated training providers
Over 90% of our customers pass the exam in the first attempt