How GUK solved its Employee training challenge with Get Licensed
GUK is a leading, total security and service solution provider. From day-to-day security operations to long-term risk management, GUK is at the forefront of protection management. It provides businesses across the UK the tools and services to overcome any security challenges that they face. The company protects assets of more than 40 billion. Nationwide, GUK manages 1,500 sites across the UK and employs over 800 members of staff. 
We interviewed Deborah Bell, Training & Talent Acquisition Manager at GUK, to find out the issues she faced in booking the right training for the company's employees.
The Challenge
GUK is an ACS-accredited company, so the company is required to continuously work on the training and development of its staff. The ultimate challenge for GUK was to find a user-friendly external booking platform that offered SIA-approved training courses across the UK. 
1. Coverage across the UK 
Essentially, one of the company's major problems was finding a provider that had a network of Security trainers providing classroom courses. With a coverage of over 85 locations, Get Licensed provides training courses nationwide. Since 2019, GUK has been working with Get Licensed. Deborah shares her experience and says,
" After years of trial and error to find that one company that had nationwide coverage across the UK, we were lucky to find Get Licensed. What I particularly like about the company is its website. It is always up-to-date, with the latest courses, regulation updates, promotions, and products. From prior experience, I can definitely say that other booking platforms are just not as fluid as Get Licensed."
2. Direct link with course attendees
Deborah had to deal with tonnes of unnecessary emails related to her employees' training. She would have to forward each notification to the correct colleague who was attending the course. We understand how frustrating that can be. Therefore, our platform is specifically designed to enable the end-user to get direct alerts, news and information related to their training, instead of the account owner.
How do we create direct relationships with trainees?
When an employer books a course for one of their employees and pays for them to attend, our platform allows them to register the concerned person so that the trainee receives alerts directly. This ensures that information is shared with the relevant person and saves account owners from having to deal with unnecessary admin.
3. Saving time and money
As a manpower company, GUK is required to have a sufficient workforce of security staff available at all times, even when a certain number of staff members are in training. This means GUK must have replacements in place when staff are being trained to keep operations going. As a result, GUK would usually incur additional costs as it would have to pay for training as well as the cost of hiring replacement staff. 
Furthermore, for each course that was booked via an external company, GUK had to wait for the result of the first course, in order to book a first aid top-up course.
THE SOLUTION
1. An Ultra User-Friendly Platform
We have designed the Get Licensed platform and the Get Licensed Employer Portal to be ultra-friendly for our customers.
The Get Licensed website is easy to navigate, which allows our customers to:
Access the right course location
Make the right booking, and
Find the right course
The layout is designed to familiarise our customers in such a way that they can quickly get adept with using the platform for any required action.
2. Dedicated Customer Service
As a technology company, we realise that it can be difficult to adjust to constant change at times. To facilitate our users throughout their journey with us, we have a team of dedicated customer representatives, always ready to help. Our team is available and at your service, whether it is course information or course booking. 
Our team also updates our users about upcoming promotions, courses and products so that no one misses out on the latest information.
Course bundles
We offer our courses in bundles so customers like GUK can benefit from lower prices, ensuring they receive value from our service. Since 2019, GUK has made 130 plus bookings with us. Our First Aid training + SIA Top-up training bundle is the most popular amongst GUK employees. The company has made a gross saving of £22,320 by combining their First Aid and SIA Top-up training bookings on the Get Licensed platform.
Get the value of 2 in 1
Time is money, and we understand how important it is for our users to save as much time as possible. Therefore, our courses are not only designed to offer the best value in monetary terms, but we also ensure that users can get the most value in less time. GUK's employees received First Aid and SIA Top-up training within a day, while other booking platforms offer these courses over a period of 2 days.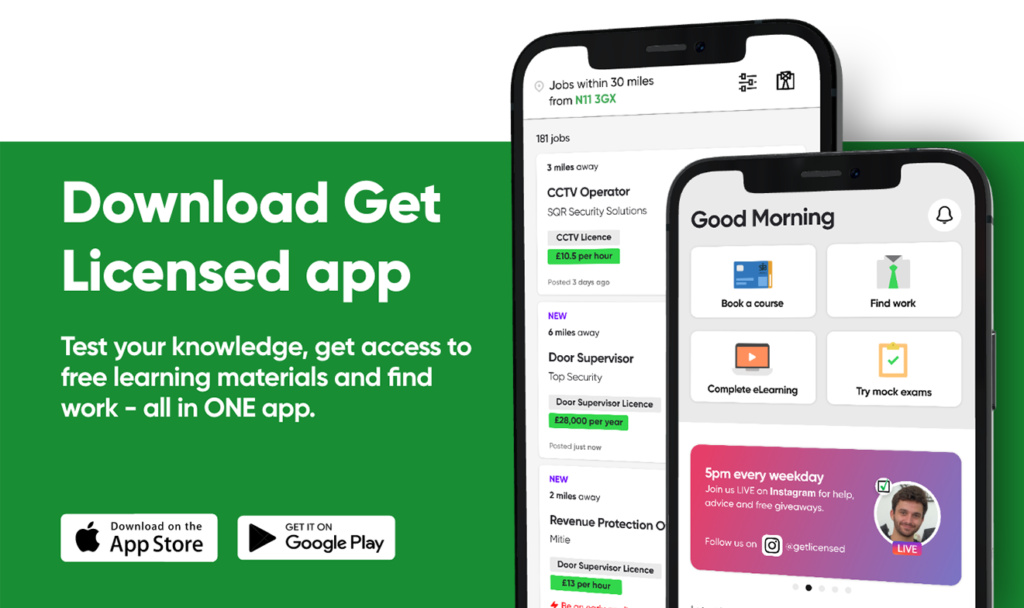 If you're interested in working with us, visit our Employer portal to get your first 5 job posts absolutely free, providing you with access to the UK's biggest pool of security professionals who are open to work.
If you are a job seeker looking for security work with GUK or any other employer, check out the live jobs on the UK's biggest security job board.
The UK's number 1 course finder
Best price guarantee
We offer price match if you find the same course cheaper elsewhere
100% money back guarantee
Get a full refund if you don't like the course. Terms apply.
5-star customer support
Consistently rated 5-stars on review sites like Trustpilot
£0 booking fee
We never charge any booking or hidden fees
Instant eLearning access
Get FREE access to eLearning course materials instantly after you book
Top-rated training providers
Over 90% of our customers pass the exam in the first attempt