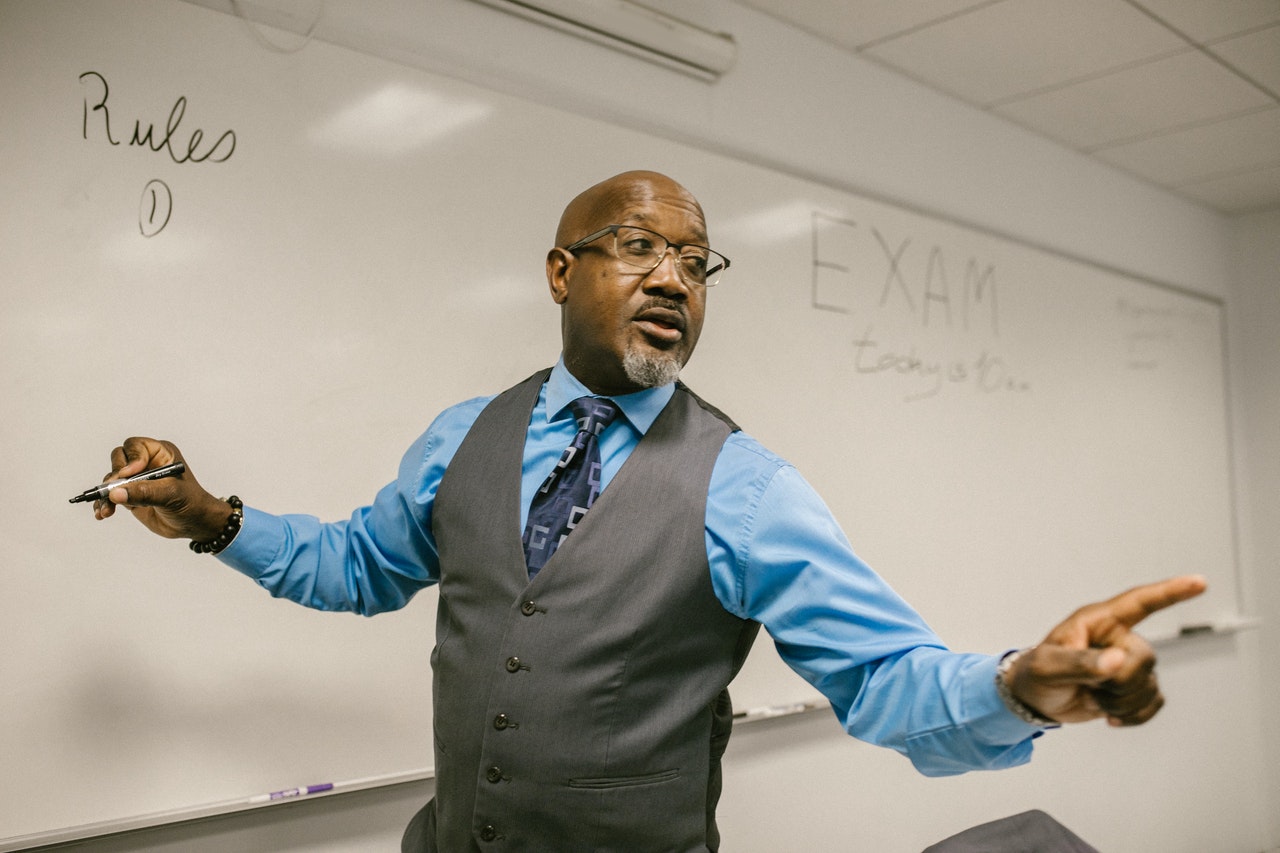 How to Become a Security Training Instructor
While the security shortage in the UK is now pretty well-known, the dedication of training instructors is what's solving the problem. These are the people who take their direct security industry experience and use it to help the next generation into security work. So, how to become a security training instructor for yourself, you might ask?
It all comes down to your frontline experience in the security industry, in the police or in the military. Transferable skills and a natural talent for controlling a room with your presence make you an excellent security training instructor candidate.
If, in the last 5 years, you've done any frontline work for over 2 years in total, you have the experience you need to become a security training instructor. So with your target now in mind, what are the pros and cons of the job?
With the end of furlough looming, plenty of security professionals are questioning their next job move carefully. Sticking with your security job is a good idea, because you're in more demand than ever. But if you're wondering how to become a security training instructor and earn even more, the timing has never been better.
How to become a security training instructor after 2 or more years on the job
One thing we all learn quickly in security work is that no two shifts are ever the same. This variety, and the number of situations you've faced as a door supervisor, security guard, police officer or member of the armed services, all adds up.
These are the strengths and learning experiences you'll draw from when leading a security training course. Naturally, you'll have SIA Licence training material to make use of, but nothing can beat what you've been through as a learning resource for other people.
Of course, it's not just about moving your skills forward. Being a security training instructor is also about taking your earning potential to the next level. If that means you get to sidestep the challenges of frontline security work too, then even better!
How much can you earn as a security training instructor?
Sometimes in life, we just don't know how valuable our knowledge and experiences are. That is, until we find out that other people need to learn these same important talents too. That's why the demand for security training instructors is the backbone of the huge demand for security professionals in the UK.
As a security training instructor, you'll work as a self-employed specialist. That means you'll be able to comfortably charge a day rate of between £150 and £200 a day. Considering the most popular security training course in the UK is the door supervisor training course, which lasts 6 days, you can already see the earning potential.
What are the advantages of working as a security training instructor?
Most people who become a security training instructor do it as the next step, after years of working experience. Door supervisors and security guards can earn up to £2,500 a month working full time. CCTV operators can get up to a similar salary after a few years on the job too.
Yet moving beyond this upper limit in wages is often a big motivator for experienced security professionals like you. There's a big difference between £150 a day and £15 an hour, after all. A door supervisor would need to work 10-hour shifts for 6 straight days to match what a security training instructor makes in that same week.
Working as a security training instructor puts £900 in your pocket for every door supervisor course you deliver. With 4 weeks in a calendar month on average, you're making £3,600 a month. Of course, you're also free to deliver fewer courses and take it easy, if you can make less and still live well.
Becoming a security training instructor also helps you feel more invigorated by your work. A good security shift is a quiet security shift; you've done your job well if there's nothing to report. Yet this work can feel less engaging than leading a class, sharing your knowledge and developing new talent.
That's why, when you work as a security training instructor, you end each session feeling satisfied. It's a different kind of satisfaction from frontline security work. That also means you're more in control of your environment too, facing less hassle from the general public.
If you're looking to eventually set up your own private security business, or work in security management, experience as a training instructor is an excellent asset. You'll find it boosts your CV very nicely, demonstrating transferable leadership skills.
Challenges to keep in mind as a security training instructor
No job is an easy ride, and the same is true of security training instructor jobs. At the broad level, you should keep in mind that you'll be working as a self-employed contractor, and that means you're responsible for your tax contributions.
Also keep in mind that no two classes are ever the same. That means you're going to occasionally meet someone at a security training course who's less keen on learning than everyone else. How you handle people like this will be a big part of what defines you as a training instructor.
Security training courses take place at specially booked venues. That means your work will involve a fair amount of travel, and some early mornings besides. You'll be on the road a lot, often moving course paperwork or specialist equipment from place to place.
The work can be demanding, but the payoff is often huge. That's true both of the money you make, but also the satisfaction you get on the job.
Scale up your career and scale up your positive impact
You're now well aware of the earning potential of working as a security training instructor. You're likewise pretty confident that the work you do is going to be fulfilling and motivating. But how much of a positive difference can you really make as a training instructor?
It's actually a bit of a numbers game. Think back to your time working on the frontline. Let's take working with a Door Supervisor Licence as an example.
Let's say you used your Door Supervisor Licence to qualify you to provide corporate security to a bank's admin office. In this office, workers process mortgages, operate a call centre for customers, and forward mail to all the bank's national branches.
Your job is not just making sure everyone who passes office reception is an employee. You also check guests in and out and record their movements on forms, as well as protecting the people, computers, cash and sensitive data onsite.
Daily, your job sees you protecting not only those 100 people at the bank office, but also everyone they're professionally and personally connected to. Bank breaches are a catastrophe if they're allowed to happen, after all.
Going home every day knowing you kept 100 people safe and happy is one thing. Now keep this scenario in mind, but imagine you're going to work tomorrow as a security training instructor.
If you help even a single class of 10 people get licensed, they now have the potential to protect 100 people daily each too. How does that relate to your job satisfaction? Well, you're the one enabling their work to happen. All of a sudden, every day, you're keeping 1,000 people safe with your actions. How amazing is that?
Get support from Get Licensed
When you take a step forward into the next level of your career, it can feel overpowering. The good news is, you're never alone when working as a security training instructor. Get Licensed keeps in touch with its growing network of training instructors to make sure you always have the support and resources you need to do your best work.
That gives you added confidence for every class you lead. Whatever your age, gender or background, your experience ties directly into SIA Licence best practices. It all makes your skills valuable on security courses across the UK.
Let our teams help coordinate your courses and bring you students who you'll help to grow. Lead new security talent and have the Get Licensed team to hand whenever you need advice and assistance.
Beyond that? Be your own boss, inspire the next generation, and work to stop the UK security shortage once and for all. Don't miss out on learning how to become a security training instructor. It might well be the best job move you ever make.
The UK's number 1 course finder
Best price guarantee
We offer price match if you find the same course cheaper elsewhere
100% money back guarantee
Get a full refund if you don't like the course. Terms apply.
5-star customer support
Consistently rated 5-stars on review sites like Trustpilot
£0 booking fee
We never charge any booking or hidden fees
Instant eLearning access
Get FREE access to eLearning course materials instantly after you book
Top-rated training providers
Over 90% of our customers pass the exam in the first attempt