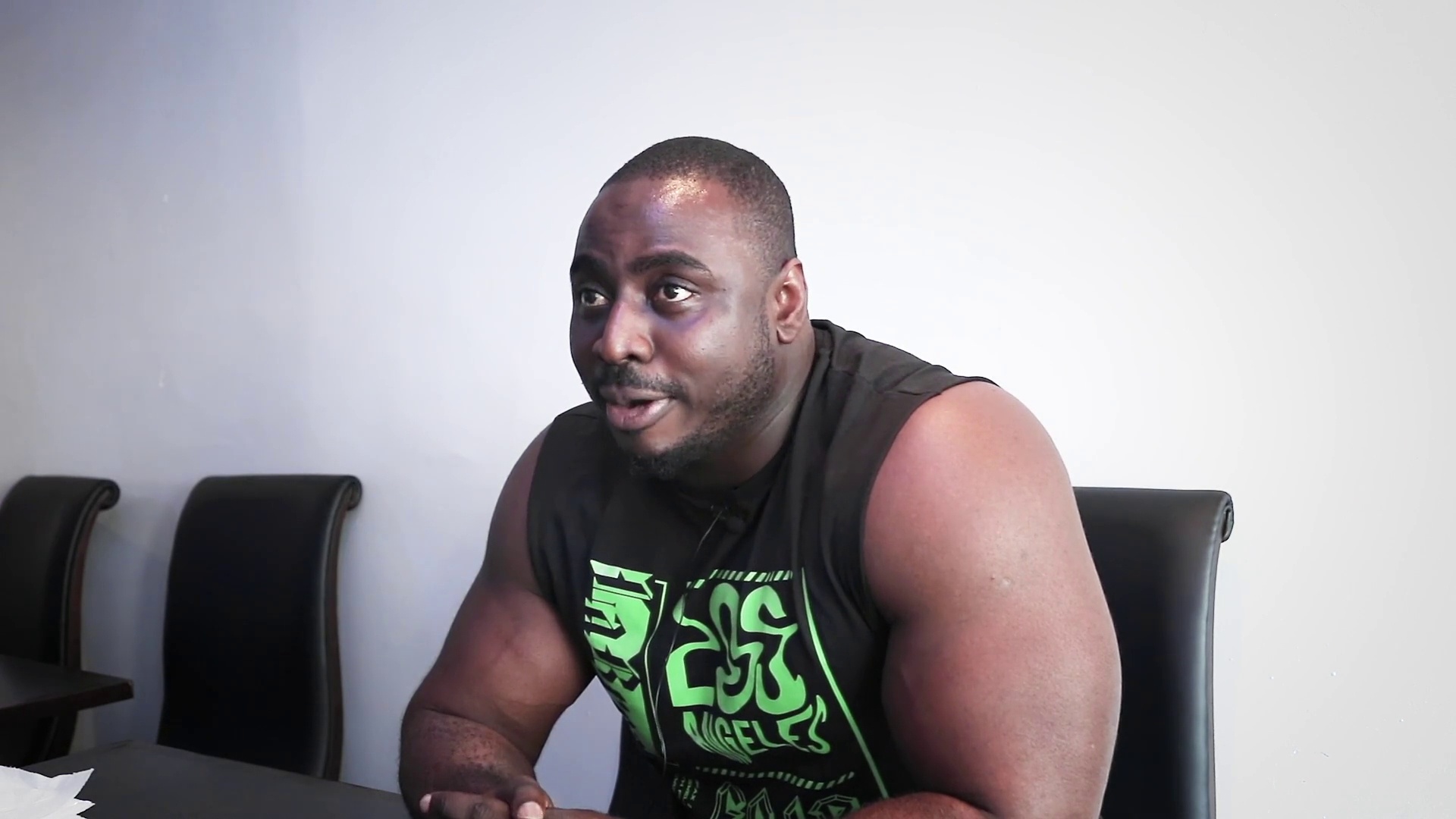 Olu – "I enjoy saving people's lives."
"I enjoy saving people's lives." – Olu
In our latest edition of Behind the Licence, Get Licensed speaks with bodyguard to the stars Olu 'Henchy' Johnson. In this candid interview, Close Protection Operative Olu lets us know his thoughts on the security industry and what it's like being an international bodyguard.
What made you decide to get into the security industry?
I got into the security industry by accident. My background is actually law and I worked in criminal law for three years. My friend Shayne went to apply for a SIA licence and told me that I should do this and I was like "no thank you." Shayne said "you should do this with me" and he told me that I'm a people person and I will do well. The day I did it, I literally got the last place on the course and now I'm an international bodyguard.
What types of security have you worked in?
I have done everything. I've done venue security, CCTV, worked with dogs, events, asset protection, residential protection, transit protection, and undercover work; worked with the police and worked with the council.
Do you think it's important to do additional courses such as First Aid
100%. The more you know about people, the more valuable you are. People have this idea that security is about saying no to people; sometimes security is about saying yes or asking what's wrong. And if people tell you something's wrong and you can't do anything about it then there's no point in you asking. Your job primarily might be to keep people safe and if you're useful enough you can help to stop someone bleeding, a pregnant person or someone over-dosing. What you do in the first three minutes can determine if someone lives or someone dies. So it's definitely worth it.
Have you had any instances where you had to use additional skills you learnt?
Yes. A fight took place; someone had been stabbed and didn't know that he had been stabbed. A guy comes over, collapses and now he's pouring out with blood on his side. You have to stop the bleeding and equally you have to know how much not to do because then you become responsible for anything that happens to that person. Immediately apply pressure to where the blood's bleeding from and clear the area because you need to operate. This guy actually had two stab wounds. At first we were just closing one and until people moved back we couldn't see.
A second instance, someone had overdosed on something. Their friend had lied about what they were taking 'cause obviously it's illegal. At this point that's not important to me. It was important to find out the truth about what this person was taking.
 How important is your physique for your career?
There are two answers to this. It is important because if you look good you get booked. But some of the best paid guys don't necessarily look good; they're not huge and they don't have massive biceps. There is also a divide in America that there are many tall guys who get hired but they are skinny. People assume if you're tall you're great at it because you can see from a distance. Equally, if you're tall it can take a long time for you to pick someone up.
Looking good helps but what you know is more important than how you look. There's no point looking good but you are constantly attacked or can't plan an entry route. Is it important to be fit? Yes, fit doesn't always mean looking the stereotype. There's a stereotype of big muscles, tattoos and bald head. But looking good does help.
 Are more women needed in the security industry?
100%. There's a huge gap in the market. The more variety of women there are it'll be easier for people to relate to those who look like them. So women jump on board.
How did you become a celebrity bodyguard?
Through being a bodyguard for R&B singer Omarion. I am a musician, and I used to play for the Afrobeats artists who came over. Cokobar were one of the biggest promoters at the time and they used to put on all the shows. I used to pester them and tell that I have a CPO licence now and I'm a bodyguard. One day they phoned me and told me Omarion was coming and they needed a Close Protection Officer. Being Omarion's bodyguard was my first celebrity job, and that's when I knew when things get off the ground that's all I'm going to do.
Can you give us some names of people you have guarded?
Omarion, Ace Hood, Prince, Migos, Jason Derulo, Naomi Campbell, Michelle Williams, Wizkid, Davido, Olamide, Kate Moss.
You were Yianni's (Yiannimize) bodyguard at the London Motor Show. Tell us a bit about that.
The London Motor Show and Get Licensed were fun. They had a really cool Lambo out. People were queuing up for Yianni.
Do you have a typical day?
When you're working anything can happen, especially with entertainers cause it's about whatever they want to do. The itinerary might say it's a four or six hour day but it ends up being a sixteen hour day and literally anything can happen.
Can you tell us about a crazy story that happened to you whilst working?
Taz's angels were in town. This was when DSTRKT were still open. There were some females who really wanted to get into their VIP table and I told them no. This girl comes up with her friend and rubs my knee and asks what can she do to get in and I told her she can step back. And she whispers to me that she will do anything, and I tell her to step back and she pops her boob out and we are in the middle of the club and I'm like 'you're gonna have to put that back in because you're not getting in.' Her friend was like 'hold on, I got this,' and she reached out and I told her to put her hand down. Then she kisses her friend, and I told them they need to go away cause I refuse to be caught out.
What do you like most about being a bodyguard?
If you asked me this five years ago, I would have said travelling and being around the music because I play music…I enjoy everything about it now. As weird as it sounds, I enjoy saving people's lives. I've never had to save people's lives like that but that's my responsibility whilst I'm there. So every time we get back the same way we left that's it. It's not a job for me, it's a career. When my days are done, they'll be like nothing went wrong on his watch. I feel like a boxer. That nothing bad happens.
What have been your biggest achievements as a bodyguard?
Nobody's died on my watch, nobody's been robbed. I know it sounds mundane. At the level I'm at now I'm not interested in how famous you are. Can you afford me? Half of my better clients aren't famous, they're just wealthy. My achievement is being worth the money that I charge… that a) you can't afford me and b) You don't understand how I work. I now don't negotiate on how I'm going to do my job.
What advice would you give to those who want to get into the security industry?
Learn about people. As big and as strong as I look and I am, I say sorry to people all the time. I massage their egos, I compliment their shoes. You need to find an easy common ground. As big and strong as I am I you need to learn about people because you can't have any enemies. You can't afford to have any personal beefs 'cause you're easy to find. Learn how to say sorry, how to say please.
What licenses do you have?
I have a Close Protection Licence, driver's licence and I've completed the Emergency First Aid at Work course.
Are you interested in becoming a Close Protection Operative like Olu?  Click below to view more information
The UK's number 1 course finder
Best price guarantee
We offer price match if you find the same course cheaper elsewhere
100% money back guarantee
Get a full refund if you don't like the course. Terms apply.
5-star customer support
Consistently rated 5-stars on review sites like Trustpilot
£0 booking fee
We never charge any booking or hidden fees
Instant eLearning access
Get FREE access to eLearning course materials instantly after you book
Top-rated training providers
Over 90% of our customers pass the exam in the first attempt